It Shouldn't Hurt This Much to Get a Mortgage
Mortgage-lending standards, after being too lax in the 2000s, have swung to the opposite extreme. Neither is justifiable or helpful. 
by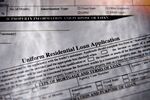 Under normal circumstances, approving my mortgage application should be a no-brainer: High income, no debt, good credit score. The missus also makes a good income, has an almost-perfect credit score and has been working for the same business for 28 years.