view
Friday Baseball Blogging: A WAR We Can All Support
Baseball-Reference.com comes up with another brilliant way to break down baseball franchises.
by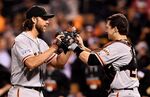 Baseball-Reference.com just keeps getting better. Have you noticed the latest feature? The team franchise pages now have the top 20 players in franchise history by wins-above-replacement (WAR). With pictures!
Here's a link to the Kansas City Royals page -- Alex Gordon is in eighth place already. Gordon is the only player on the list from the team's current roster. The Royals' bad years are well-represented (Zach Greinke ranks 10th and Carlos Beltran is 13th). The Royals aren't a very old franchise and they've been through some rough years. With any luck, the bottom half of this list won't survive much longer.
As for the Giants, how's this for a strong franchise? Will Clark's 35 WAR is last on the list. Buster Posey has a WAR of 23. Pablo Sandoval is at 21. Tim Lincecum has a WAR of 23 but he's heading in the wrong direction. Madison Bumgarner only has a 15. Matt Cain, however, is at 32, so if he's healthy he could make the list soon.
I wonder when the Giants will retire number 25 for Bobby and Barry Bonds. Bobby, a severely underrated player, is 17th on the list. Barry, no surprise, is second (this only takes into account his value as a Giant so he's well behind Willie Mays). The Giants are (at least publicly) on good terms with him. There really isn't a reason not to do it.
Anyway, the pages are a lot of fun to look through. Here are a few thoughts I had going through them:
The Tigers: Remind me again why Lou Whitaker and Alan Trammell aren't in the Hall of Fame? I like to see that Justin Verlander and Miguel Cabrera are already climbing the list.
The Red Sox: Yup, the Babe is there (at 15), reminding us of just how much better he was than anyone else. Jim Rice is behind Dewey Evans -- yeah, the Hall of Fame voters got that one wrong, too.

The Nationals: They're almost all Expos. Ryan Zimmerman and Jordan Zimmermann are both on the list. With any luck, we'll get to watch Bryce Harper move up, up, up. Tim "Rock" Raines is still waiting for his call to Cooperstown. Steve Rogers not only makes the list, he ranks fourth. Rogers was a very fine pitcher who probably shouldn't have been throwing 275 innings a year. That brings us to ... Livan Hernandez? Really? I would have taken at least 50 guesses without coming up with his name.

Who is the biggest surprise on these lists?
Kavitha and I will be continuing our post-game conversations throughout the series, so look for them over the weekend. Hope you enjoy them.
To contact the author on this story:
Jonathan Bernstein at jbernstein62@bloomberg.net
Before it's here, it's on the Bloomberg Terminal.
LEARN MORE