Does Amazon's Monopoly Really Matter?
Anti-trust law is easier to sell when it's focused on protecting consumers, not smaller producers.
by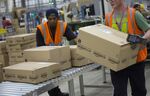 The first thing to remember about the Amazon/Hachette Book Group dispute is that this sort of thing happens all the time in business. When two big companies negotiate, it's like Mothra and Godzilla: Each party can throw around a lot of weight, which means some collateral damage. It's not exactly unheard of for a company that doesn't like a supplier's price to stop carrying the product, or to deny the supplier valuable end-cap space, or otherwise deprioritize the sales of the contested items.