Amazon's Holiday Blahs May Be Contagious
The online retailer's predictions for the next quarter may indicate that the post-recession recovery isn't as strong as some topline numbers imply.
by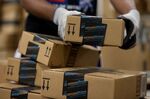 Amazon investors were given a lot of bad data points to choose from in yesterday's quarterly report. The net loss of $437 million is more than 10 times larger than last year's loss. Revenue growth missed forecasts. The Firefly phone was a flop. And the cloud computing division, Amazon Web Services grew, but only after the company slashed prices.