Where to Find India's Black Money
Narendra Modi has been lambasted for struggling to recover "black money" from abroad. He'd have better luck, and do more good, by looking at home. 
by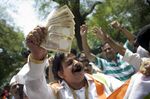 Like all politicians, Narendra Modi promised more than he could deliver while campaigning to become India's prime minister. Critics are now making him pay. Earlier this week, a furor erupted after Modi acknowledged a setback in efforts to recover the billions in illicit, untaxed "black money" stashed abroad in foreign bank accounts. After lambasting the previous Congress-led government for failing to make public a list of Indian account holders in Liechtenstein's LGT Bank, he admitted he couldn't do so either because of confidentiality requirements in an existing agreement with Germany.