The End of Free Banking
U.K. banks will disappear from the high street as the Internet takes over; and retail banking won't be free for much longer in a world of zero interest rates.
by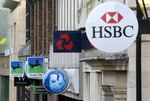 An economist from Mars wandering the streets of a British city would be intrigued by the proliferation of a particular kind of shop. Each is dressed in distinctive livery, though they all offer the same services -- mostly for free. And they all have machines on their exterior walls that can do practically everything the staff inside can, at a fraction of the cost.
Welcome to the outdated world of the U.K. high-street bank, whose days are surely numbered. In coming years, the spread eagle of Barclays, the black horse of Lloyds, the arrow-head triangle of NatWest and the not-quite-a-flower of Royal Bank of Scotland will fade away, victims of the Internet.
More importantly for bank customers, the days when depositing your salary into an account entitled you to free services (provided you didn't overdraw) are coming to an end -- and not just in the U.K. The prevailing zero-interest rate environment almost everywhere in the world makes it impossible for a bank to make productive use of your deposit by lending it to someone else. Combine that with the costs of adding increased technology and keeping your money secure, and it's clear that banks will soon have to charge for checking accounts.
Lloyds Banking Group will reveal 9,000 job cuts next week, trimming its workforce of 88,000 full-time employees and adding to the 37,000 workers shed since 2008, Bloomberg's Stephen Morris reports today. Closures among its more than 2,000 branches are also on the agenda. The British Bankers Association lobby group says the U.K. has a total of 9,700 bank branches, and from 2008 to 2012, retail banks cut more than 32,000 employees, leaving about 422,000 staff in the industry.
Taking up the slack is Internet banking, whose volume has grown 10 percent in a year, according to the BBA, as bank customers have doubled their use of apps on mobile devices. Since 2011, RBS, which owns NatWest, has seen a 30 percent drop in branch transactions, and a doubling of digital ones. By the end of this year, just 10 percent of transactions are expected to take place in its branches, down from 25 percent four years ago.
Banking's drift to the Web is reflected in criminal behavior. Eighty years ago, Willie Sutton robbed banks "because that's where the money is." Today, he'd have to become a cyber-crook. In the past decade, the number of U.K. bank robberies decreased by half. Last year, there were only 89.
This column does not necessarily reflect the opinion of Bloomberg View's editorial board or Bloomberg LP, its owners and investors.
To contact the author on this story:
Mark Gilbert at magilbert@bloomberg.net
To contact the editor on this story:
Mary Duenwald at mduenwald@bloomberg.net
Before it's here, it's on the Bloomberg Terminal.
LEARN MORE