Has Too Much Democracy Ruined America?
In the U.S., democracy doesn't work for the disengaged.
by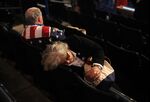 The most striking thing about the U.S. midterm elections is how little most of the country seems to care. It isn't as though nothing will change: If the Republican Party wins control of the Senate, as the prognosticators are saying, that will have consequences. Yet, according to one recent poll, voters are even less engaged than usual and turnout next month is likely to be less than 40 percent.