Give Japan's Abe a Break on Women
Some of Shinzo Abe's mostly foreign critics are contending that his drive to increase the economic role of women is a sham. That's far from the case.
by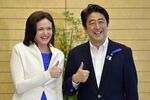 Why are Western pundits, inside Japan and out, so down on Japanese Prime Minister Shinzo Abe? I have three theories. First, Abe is a nationalist -- sort of a Japanese Ronald Reagan -- and nationalism scares a lot of people: What if Abe starts a war with China! And when it comes to Japan, most people still associate nationalism with World War II. Second, Abe's "Abenomics" agenda includes a large dose of quantitative easing, which for some reason makes people very uncomfortable. Third, Japan's political system is so dysfunctional -- there is no real opposition to the ruling Liberal Democratic Party -- that Western journalists may take it upon themselves to provide some kind of balancing or cautionary role.