Does Momentum Matter in the World Series?
Surely, if momentum meant anything, Gregor Blanco's leadoff home run would have been a crushing blow.
by and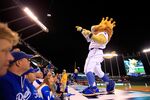 During the 2014 World Series, Bloomberg View columnists Jonathan Bernstein and Kavitha A. Davidson will discuss, debate and dissect the happenings on and off the diamond.