Want a Tesla? Start Voting
Though consumers wield immense power in choosing which cars to buy, establishing new rules requires old-fashioned political engagement.
by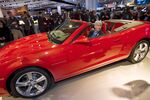 In a letter explaining his decision to sign a law banning Tesla's direct-sales model from his state, Michigan Governor Rick Snyder made it clear that he has nothing against the California-based electric-vehicle maker. "It appears that there has been a fair amount of misunderstanding over one aspect of this legislation," Snyder wrote. "This bill does not, as some have claimed, prevent auto manufacturers from selling automobiles directly to consumers at retail in Michigan. That is because this is already prohibited under Michigan law."