VCs and Startups, Waiting at the Altar
Venture capitalists and tech startups may have to wait longer than they're used to to get acquired. Big tech firms are dismissing acquisitions for the moment, according to Katie Benner.
by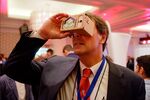 Lumbering tech giants like Hewlett-Packard, SAP and, most recently, IBM have all finally admitted that they have a problem. After years of hemming and hawing about "the cloud" -- techspeak for software and services that customers rent instead of buy -- the trend got away from them and it's hurting their bottom lines.
Other companies of a certain age are also struggling to keep up. Whether the trend is cloud computing, the rise of mobile devices or the demand for better security technology, EMC, Symantec and Cisco have all fallen behind too.
Shareholders and employees aren't the only ones to suffer the consequences of all that turmoil. Older tech firms have long been dependable buyers of venture-backed companies, delivering the doubles and singles that keep venture firms going while they wait for grand slams like a Facebook or a Twitter to come along. They've also propelled industry consolidation, which increased returns for shareholders of small and mid-sized tech stocks.
But the strategic missteps of technology giants such as IBM and HP have forced startups and the firms that back them to slow down everything and learn how to be patient.
HP, which is in the process of breaking up, hasn't made a major acquisition since its disastrous and expensive bid for Autonomy in 2011. Same goes for Symantec, which is in the process of undoing an ill-conceived deal to buy Veritas Software in 2005. IBM and Cisco have announced fewer deals this year than in the past.
IBM and Cisco were the most important enterprise players in a CB Insights study on the top acquirers during the past five years. But the survey was dominated by consumer companies such as Google, Twitter, Facebook and Apple. "What we're seeing is a changing of the guard from companies like IBM to companies like Facebook," says CB Insights founder Anand Sanwal.
Indeed, Internet companies such as Google have ramped up their M&A machines lately, but they're buying companies that focus on advertising technologies, satellites and robots. Facebook's biggest deals have been for messaging and virtual-reality businesses. Neither of these kingmakers are buying the business-to-business companies that have long depended on a network of big acquirers for exits.
Not surprisingly, VC investment mirrors this shift. Media and entertainment startups received $4.3 billion in the first three quarters of the year, while business product and IT services startups got $2.4 billion, according to the National Venture Capital Association.
During a recent trip I took to Sand Hill Road -- the avenue that's the linchpin of Palo Alto's venture-capital machinery -- the sentiment I kept hearing was this: VCs want a broad buyer ecosystem, especially if recent stock market gyrations cause the public offering window to shut for the sorts of companies that are expected to deliver huge returns, such as Airbnb and Uber.
Here's one way that the acquisition situation could affect a VC-backed company like Box, which has delayed an IPO for almost a year (citing bad stock market conditions). Box, a cloud-based storage play, also offers additional security and compliance features that could allow a fusty acquirer to jump quickly into the cloud. Box is also burning through its cash holdings. In short, it needs an exit. But the pool of possible suitors is smaller now because potential buyers aren't in a position to purchase, integrate and then build on such a business.

It will be a few quarters yet before old-school tech companies are stable enough to grow through acquisitions. HP, for instance, is still trying to steady the core of not one, but two separate companies. Other giants, such as IBM and Cisco, are struggling with the cultural issues that kept them from embracing trends such as cloud computing in the first place. And still others, such as Symantec, are dealing with new competitive realities after having divested smaller businesses they acquired long ago.
If the buying begins again in earnest -- and no one is sure quite when that will be -- expect to see a lack of discipline reign. Companies tend to overpay for acquisitions when they're desperate, as these tech giants certainly are, so investors should take any future buying spree cautiously.
This column does not necessarily reflect the opinion of Bloomberg View's editorial board or Bloomberg LP, its owners and investors.
To contact the author on this story:
Katie Benner
To contact the editor on this story:
Timothy L O'Brien at tobrien46@bloomberg.net
Before it's here, it's on the Bloomberg Terminal.
LEARN MORE