Rent Control's Winners and Losers
If rent control were eliminated in New York City, rents on regulated units would soar while those on the open market would fall, though not by a similar percentage amount.
by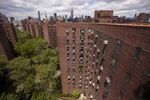 Any renter in New York City probably has felt the pain of coming up with the monthly payment. There are plenty of reasons for the city's steep rents: limited land and housing stock; a wealthy populace that bids up all prices; and, of course, rent control, which leads landlords to make up on unregulated units what they can't get on those with restrictions.