Editorial Board
Obama Gave Turkey the Push It Needed
In pushing Turkey to allow the Kurdish Peshmerga to move into northern Syria, President Obama did the right thing.
by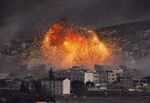 In air-dropping weapons to the Kurdish People's Protection Units in Kobani this week, President Barack Obama has applied the pressure needed to get Turkish President Recep Tayyip Erdogan to finally help push back against Islamic State in Syria. Erdogan will now allow Peshmerga troops to cross Turkish territory to reinforce and supply the city of Kobani, just across the Syrian border.
Erdogan may not have liked being pushed, but Obama did the right thing. He may have to push harder still to get Turkey, a core NATO ally, to allow the U.S. to use its bases in Turkey for the anti-Islamic State campaign. But in getting Erdogan to move this far, Obama has done Turkey a great favor. If Erdogan had persisted in blocking Kurdish action in northern Syria, he would have done lasting damage to the fragile peace Turkey has reached with its own Kurdish population.
Erdogan has been slow to recognize how fundamentally the situation in the Middle East has changed over the past year, as Islamic State's power has grown and the Kurds of northern Iraq and northern Syria have been called upon to resist its advances on the ground. Now, Turkey needs to come to terms with some form of autonomous Kurdish entity on its borders, and that means making peace domestically with the Kurdistan Workers' Party, or PKK, whose insurgents battled the Turkish government for decades until last year's cease-fire. Erdogan would rather deal with the Kurdistan regional government in Iraq than with the PKK, but he no longer has the privilege of separating the two. He has to work with them both.
Opening a supply channel to Kobani creates an opportunity for Erdogan to walk back from the harsh line he has taken on the PKK. Equating them with Islamic State, as he did earlier this month, was a rash move that only provoked Turkey's large Kurdish minority, who were already angry over Erdogan's refusal to aid Kobani. For days, Kurds throughout Turkey rioted, leaving more than 30 dead. Erdogan should grasp this chance to restart his relations with the Kurds.
At the same time, he has to recognize that his most important security relationships, with NATO and the U.S., are under strain. Erdogan wants Obama to enlarge the fight against Islamic State to make it an action against Syrian President Bashar al-Assad. On this, Erdogan has a strong argument to make: Assad, after all, is responsible for many times as many deaths and war crimes as Islamic State. And he has a strong hand to play: Ultimately, the U.S.-led campaign needs Turkey's help to succeed.
Yet the best way for Erdogan to make his case is to turn the Kurds into allies rather than enemies. By cooperating with them in Syria as well as in Iraq, he can join the U.S. coalition as a fully engaged member -- and help lead it.
--Editors: Marc Champion, Mary Duenwald.
To contact the author on this story:
The Editors
To contact the editor on this story:
David Shipley at davidshipley@bloomberg.net
Before it's here, it's on the Bloomberg Terminal.
LEARN MORE