Is Mr. October Hiding in the Bullpen?
The role of middle relievers is perhaps more valuable than ever before, even if fans view them as failed starters.
by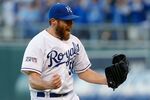 The Wild Card World Series kicks off tonight, with the American League's Kansas City Royals hosting the National League's San Francisco Giants in a matchup nobody saw coming (none of the experts at MLB.com, anyway).