Is Hong Kong China's Future?
Many people have given up hope of making China look more like Hong Kong. In fact, the mainland's future looks much like that of the former British colony's present.
by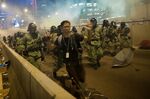 Hopes that Hong Kong would one day transform China in its own image now seem foolish and futile. Beijing appears intent on making the former British colony look more like the mainland -- with a closed political system dominated by the Communist Party. For Chinese President Xi Jinping, however, the future may look a lot more like Hong Kong's present than he'd like to admit.