College Debt May Not Be a PLUS for Parents
Looser loan standards that are good for colleges might not be as good for their students.
by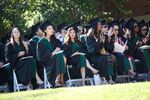 The U.S. Department of Education will soon loosen the credit standards for parents looking to borrow to pay for college under the parent PLUS loan program. The new rules will be published next month and will go into effect for the next school year. Although this may look like a great solution for those struggling with tuition payments, some serious problems could arise, especially for students at historically black colleges. Before cheering the news, families and the government should be aware of the implications of the changes.