The Trouble With Tokenism
The loss of two female cabinet ministers is an embarrassing blow to Japan's Prime Minister Shinzo Abe. But his efforts to raise the profile of Japanese women suffer from a different problem.
by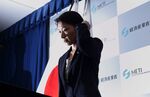 For Japan's Shinzo Abe, losing two of five female cabinet members to scandal in one day is hugely embarrassing -- a grave setback to his efforts to shake up the staid, male-dominated world of Japanese politics. More importantly, it's a reminder of the real problem with Abe's female-empowerment drive: His policies remain more symbol than substance.