view
Percy Harvin Will Feed the Jets' Dysfunction
As wide receiver Percy Harvin moves from the Seattle Seahawks to the New York Jets, expect some drama to follow.
by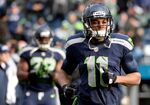 As Pete Carroll's mantra goes, the key to playing in Seattle is simple: "Win Forever, Always Compete."
It's a philosophy that stresses confidence, focus and trust, the impact of words, and above all, consistency. It's a philosophy that catapulted the Seahawks to a resounding victory in Super Bowl 48 and that had the team looking like a contender to repeat at the beginning of this season. It's a philosophy that couldn't have continued to coexist with Percy Harvin in the locker room.
The Seahawks traded the wide receiver to the New York Jets on Friday, 10 days before the Oct. 28 trade deadline, in exchange for a conditional, midround draft pick in 2015. The move was made to preserve team chemistry, multiple sources said, as Harvin reportedly brought over his highly publicized behavioral issues from his stint with the Minnesota Vikings.
Harvin's field impact was minimal at best; a hip injury sidelined him for all but one regular-season game last year. This season saw more playing time, but Harvin didn't really fit into the offense that won the team a title -- a combination of smashmouth football centered on running back Marshawn Lynch and play-action long ball by quarterback Russell Wilson. In fact, as CBS Sports' Jason LaCanfora notes, Wilson's quarterback rating this year is much higher without Harvin on the field.
Unhappy with his limited role in short- to midrange receptions, Harvin reportedly pulled himself from three games this season and refused to return to the field. Team officials were weary of his anger-management issues; after the trade, reports surfaced that Harvin had clashed with teammates last season, engaging in physical altercations with Golden Tate and Doug Baldwin about the time of the Super Bowl.
Perhaps the Seahawks' biggest fear was Harvin's inability to get along with Wilson. According to NBC Sports' Mike Florio:
The Seahawks possibly feared that Harvin had sufficient influence over enough of the locker room to launch a mutiny against quarterback Russell Wilson, who despite not yet getting a franchise-quarterback contract possibly has become the target of some resentment among players who don't share his complete devotion to the game, and who regard the third-year quarterback as a player-coach.
Wilson faces a contract extension at the end of this season, and with Colin Kaepernick and Andy Dalton each signing nine-figure deals this summer, he can expect a comparable contract as a quarterback who already has a ring. Harvin was well-liked in certain corners of the locker room -- both Wilson and Baldwin reportedly wanted to retain Harvin and work through their problems, while Baldwin predictably blamed Seattle's 28-26 loss Sunday to the St. Louis Rams partially on the "shock" of losing his teammate. But it served the Seahawks' long-term goals to quell any doubt around Wilson's role on the team sooner rather than later. As Carroll would tell you, you can't build a dynasty without full confidence and trust in your franchise quarterback.
Which leads to this: What exactly were the Jets thinking? Jets fans are happy that the owner is finally loosening the purse strings a little, but many insiders question the wisdom of spending $7 million on a single player.
I question the wisdom of introducing yet another toxic element to an already dysfunctional locker room, made worse by Harvin's history of questioning his passers. Before the Seahawks and Wilson, Harvin complained repeatedly about Vikings quarterback Christian Ponder, to the point at which Minnesota officials were more than happy to ship him off to Seattle in exchange for three draft picks.
Consider that unlike Wilson, Ponder used Harvin quite a bit, targeting him more than any other player in 2011 and 2012 combined. Harvin reportedly had questioned Ponder's ability. On the one hand, most people had questioned Ponder's ability by that point; on the other, Harvin led the team in both receptions and receiving yards his final two seasons with the Vikings.
Carroll might have been willing to take a risk on a talented yet troubled player in hopes that he could reach him with his mighty, morphing coaching powers, but that experiment failed. How confident should we be that Jets head coach/head loudmouth Rex Ryan could do any better, or that he'd even be around to try to after this season?
If Harvin continues his pattern of pushing his frustrations onto his quarterback, that doesn't bode well for the mess stewing around the Jets. Quarterback Geno Smith's development has been sluggish thanks in part to a mediocre receiving corps outside of Eric Decker. The addition of a dual threat like Harvin could help extend Smith's life as the Jets' starter; Smith's success in college was built on completing short passes to receivers who could stretch the field. Harvin hasn't been doing much of that lately, and he's not a strong route runner. If the trade doesn't meet Jets general manager John Idzik's optimistic prediction of a "potential coup," expect Harvin to join the rest of the New York faithful in taking it out on Smith.
Then again, the Jets have managed to eke out mild success amid extreme dysfunction in the past -- perhaps locker-room chemistry is the luxury of Super Bowl champions.
To contact the author on this story:
Kavitha A Davidson at kdavidson19@bloomberg.net
To contact the editor on this story:
Stacey Shick at sshick@bloomberg.net
Before it's here, it's on the Bloomberg Terminal.
LEARN MORE