4 Lessons of a Wild Market Week
Almost anything makes markets jittery these days, and investors are conditioned to rely on the Fed for support. 
by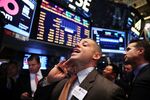 Many investors will remember last week's market gyrations (and Wednesday's in particular) as exceptional, exciting, frightening and draining. The wild movements affected both stock prices (including a 600-point swing in the Dow Jones Industrial Average in just a half-hour) as well as U.S. Treasury bonds, which are traditionally more stable and reassuring.