Wimp Charges Make It Harder to Stop Ebola
Beating Ebola means deciding it's acceptable to care about other countries' well-being. Yesterday's hearing showed we're not there yet.  
by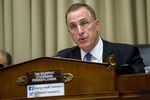 Yesterday's congressional hearing on Ebola demonstrated what may be the U.S.'s greatest obstacle to dealing with the outbreak. It's not money, manpower or know-how, but something both simpler and harder: deciding whether it's OK to care about the rest of the world.