The Fed's Inflation Jedi Mind Trick
The public knows nothing about monetary policy. So how does the Federal Reserve still influence their thinking?
by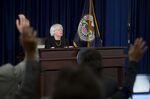 Inflation expectations have been falling for months, and that has some people worried. They say that the Federal Reserve should raise those expectations, which would bring real interest rates down and encourage people and businesses to spend money. I'm not going to pass judgment here on whether the worriers are right; I've already said my piece on why raising inflation rates isn't a sensible goal for the Fed.