Oil Bust Has Brazil in Deep Water
Petrobras has long been perp-walked to a different set of rules.
by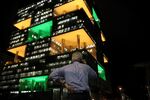 No one was exactly popping champagne corks at Petroleo Brasileiro SA this week. But you could just about hear the chorus of relief over falling oil prices sweep the Brazilian oil major's honeycomb office tower in Rio de Janeiro.
If that sounds odd, it's because Petrobras has long been perp-walked to a different set of rules. Publicly-traded but government-controlled, the Latin American energy giant must please varying masters. Ordinary shareholders would welcome the windfall that higher fuel prices might normally bring. So would Petrobras's managers, who struggle to balance the company's debt-strafed books and retrieve oil from costly ultra-deepwater drilling operations.
Both, however, bow to the Brazilian government, which is struggling with a weak economy and rising prices ahead of the Oct. 26 presidential elections.
President Dilma Rousseff, who is up for reelection and is already being hammered by charges of corruption and cost overruns at the captured oil company, knows that spiking inflation can bring down the most popular leader.
So when international prices were high, Brasilia kept domestic gasoline and diesel cheap and subsidized the difference. Petrobras's balance sheet took a hit every time a motorist filled up. The damage since 2011: around $24 billion (R$59 billion), according to the Instituto Brasileiro de Petroleo, an oil lobby.
In the pretzel logic of Brasilia, the international oil bust will now allow Latin America's oil giant to stanch losses by eliminating subsidies. Anywhere else, consumers might expect to pay less when oil trades down. Leave it to Rousseff's campaign wizards to convince Brazilians they are better off even as they pay more at the filling station.
But the immediate cash relief brought by cheaper oil is Petrobras's long-term migraine. Think back to 2007, when Brazil announced the discovery of up to 80 billion barrels of high-grade oil below the Atlantic, the largest find in the Americas since the Cantarell field in 1976, in the Gulf of Mexico.
The political engineers were ecstatic. Petrobras's leaders jetted off to tout Brazil as a future oil power. The mere whiff of a fresh revenue stream started a three-year brawl in Congress over how to split up the imagined bounty.
Buoyed by the bonanza, the company unveiled one of the world's most ambitious business plans: $221 billion in investment between 2014 and 2018. The problem was, the plan was built on expectations of oil trading at $100 per barrel on average through 2017, and slightly less in 2030, according to Valor Economico.
Brasilia denies that the current slump threatens its play for "pre-salt" oil, named for the huge reserves of oil capped by a thick layer of salt, miles below the ocean floor. Petrobras officials are on record saying that they can still make a profit from its ultra-deep wells even if oil drops to around $45 a barrel.
Still, lower premiums are squeezing the company as costs have mounted and debt has risen to around $100 billion. If the battered Brazilian real continues to follow falling oil prices, the company's dollar-denominated debt overhang will get worse, rising to more than five times its earnings before interest, taxes, depreciation and amortization, according to Itau BBA. Already, Petrobras is badly overstretched. "If oil falls to around $80 a barrel, the company will be operating under much tighter margins," said Adriano Pires, director of the Brazilian Center for Infrastructure.
If there is an upside to the oil bust, it's that Brasilia might have to rethink its upside-down energy policy, which robs Petrobras to fuel the political cycle and mortgages efficiency on the altar of nationalism. That's something Brazilians will discover only after candidates stop drilling for votes.
This column does not necessarily reflect the opinion of Bloomberg View's editorial board or Bloomberg LP, its owners and investors.