view
Buy a Yacht, Save the World
Global growth depends increasingly on U.S. consumers buying stuff they don't need.
by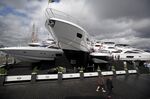 With a sputtering global economy increasingly dependent on demand from Americans, it's worth asking what kinds of goods and services U.S. consumers have been buying. The answer, according to a subjective and unscientific study: A lot more stuff they don't need.
Separating wants from needs is no easy task. Many of the hundreds of consumer spending categories trackedby the Commerce Department could go either way. A new car, for example, could be necessary transportation or a Lamborghini. That said, there are some categories -- ranging from pleasure boats and gambling to more borderline stuff such as recreational books and gym memberships -- that consist mainly of goods and services that people could, if necessary, do without. As of August, they accounted for roughly one fifth of all consumer spending.
Throughout the recovery that began in mid-2009, such nonessential categories have made an outsized contribution to consumption growth. Over the three months through August, they grew at an annualized, inflation-adjusted rate of 6 percent, compared to 2.9 percent for consumer spending as a whole. They have accounted for about a third of the real growth in personal consumption since August 2009.
Among the biggest standouts were pleasure boats, televisions and spectator amusements (such as movie theaters) -- which grew at annualized, inflation-adjusted rates of 55 percent, 22 percent and 17 percent over the three months through August. Some categories that didn't count as nonessential but could still include a lot of frivolous spending -- such as new cars and major household appliances -- also made outsized contributions to growth.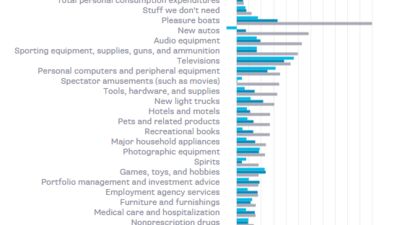 There's nothing inherently wrong with an economy driven by wants rather than needs, particularly if people can afford them. On the contrary, it can be a sign of rising living standards. As the provision of human needs becomes increasingly automated, finding wants to satisfy will be essential to keeping people employed and giving them a sense of purpose.
The situation among U.S. consumers, though, isn't quite so benign. A lot of spending is being done on credit, by people with questionable ability to pay. Auto debt, for example, stoodat more than $900 billion as of June, up an inflation-adjusted 9 percent from a year earlier -- with more than a fifth of new loans going to subprime borrowers. By some measures, the poorest American families are more indebted than ever.
It would be much more encouraging if U.S. consumers were buying more stuff they don't need in a context of robust job growth, productivity and wage gains. More overstretched borrowers is something the world economy can definitely do without.

To contact the author on this story:
Mark Whitehouse at mwhitehouse1@bloomberg.net
To contact the editor on this story:
Toby Harshaw at tharshaw@bloomberg.net
Before it's here, it's on the Bloomberg Terminal.
LEARN MORE