Will Freezing Your Eggs Help Your Career?
Solutions that help woman expand their fertility choices are a great advance. But I worry that companies may end up encouraging women to make a very different choice from the one they think they're making.
by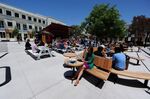 Apparently tech companies are offering egg freezing as a benefit to their employees. There's some suspicion among women I know that this is supposed to help/force women in technology balance family and career by delaying childbirth -- it's not a good time in your late 20s and early 30s, so freeze those eggs and have kids when you're ready.