view
Unprepared for the Avalanche
If the 168 trekkers who were on the Annapurna circuit when the avalanches hit had all had guides, many lives may have been saved.
by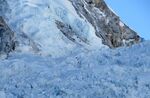 On Wednesday there were 168 people registered with the Nepalese government to hike the Annapurna Circuit, a 128-mile horseshoe that's become one of the world's most popular high-altitude treks. By the end of the day, at least 26 were dead and more than 100 were missing, due to an unseasonable blizzard and avalanches that rumbled through the alpine landscape. In all likelihood the death toll will rise, but already it exceeds the April 18 avalanche on nearby Mount Everest that took the lives of at least 16 sherpas, in what was the single deadliest day in a near century of mountaineers attempting the world's highest mountain.
Annapurna is not Everest. You don't necessarily need mountaineering skills to follow the trails, though it helps to be in top shape, and you don't need oxygen, though even the fittest soon learn it's necessary to take time to acclimate. Also, unlike with Everest, the Nepalese government doesn't require that climbers hire local guides to accompany them on the journey, which can reach 17,768 feet. Indeed, for many of the more than 40,000 trekkers who come to this region annually, the ability to trek independently is precisely the attraction.
None of that probably matters for experienced mountaineers, who understand how weather can transform a lovely hike into a dangerous mountaineering ordeal. But for everyone else, it means trouble. "Most trekkers on a route like the Annapurna circuit would have no mountaineering experience whatsoever," Adrian Ballinger, a California-based high altitude guide, explained to National Geographic. "They'd be hikers, maybe without much wilderness experience."
It's unclear at the moment just how many of the dead and missing hikers were trekking without guides, much less had previous mountaineering experience. But based on the Facebook page that one of the families set up as a clearinghouse for information on the missing, some chose to go it alone. Canadian media reports that at least one group chose a non-local guide.
Would it have made any difference if they'd been better led? October blizzards are unusual on Annapurna, and this one occurred as a result of a particularly powerful and unusual cyclone that hit India's east coast early in the week. Communications on the Annapurna circuit are often limited, and many of the trekkers on the trail wouldn't have had much opportunity to retreat in time to lower elevations, even with Nepalese guides. Indeed, according to early reports, locals going about their business also died on the mountain. In this case, some fatalities were inevitable.
But probably not all of them. High-altitude guides play a number of roles -- as naturalists, cooks and conversationalists. But the most important one is to serve as a living, talking safety manual when things go wrong. The Nepalese government knows this; in 2012, it announced that the days of independent trekking in Nepal would soon be over. Henceforth, foreigners would have to hire at least one local guide or porter. It was a sound policy to not only ensure the personal safety of hikers (several instances of violent crime against trekkers were the immediate inspiration) but also give locals a share of the country's tourism revenue. For reasons that remain unclear, however, the government placed the policy on hold for review.
In the aftermath of this week's Annapurna tragedy, the policy needs to be put in place. Local guides should be attached to every hiker -- inexperienced or experienced -- who chooses to test Annapurna. No doubt, some potential tourists will choose other destinations where they don't need to pay for guides. But that loss will be minor compared with the economic hit Nepal will take if it earns a reputation for being too dangerous to trek.
To contact the author on this story:
Adam Minter at aminter@bloomberg.net
To contact the editor on this story:
Mary Duenwald at mduenwald@bloomberg.net
Before it's here, it's on the Bloomberg Terminal.
LEARN MORE