High-Speed Traders Put a Bit Too Much Gravy on Their Meat
It can be hard to tell manipulative from non-manipulative strategies, but naming your strategies "Meat" and "Gravy" is a clue.
by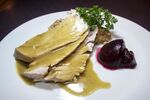 One good general rule is that it's harder than you think it is to figure out what's market manipulation and what isn't. Trading a lot, cancelling a lot of orders, putting in orders or doing trades on both sides of the market, trading a lot right before a close or fixing -- all of those things could be signs of nefarious manipulation, or just normal risk management. No single event or pattern proves manipulation. You often need to look for subtle clues to figure out whether a trade is actually manipulative
One subtle clue is, if you name your algorithms "Meat" and "Gravy," there is probably something wrong with you! And your trading, I mean. But also your aesthetic sensibilities. Here is a Securities and Exchange case against Athena Capital Research, which the SEC touts as "the first high frequency trading manipulation case." The SEC caught Athena "placing a large number of aggressive, rapid-fire trades in the final two seconds of almost every trading day during a six-month period to manipulate the closing prices of thousands of Nasdaq-listed stocks." That period was in late 2009, by the way.
Athena settled for $1 million, and while it did so "without admitting or denying the findings," the SEC's order has the usual litany of dumb, so you can tell that Athena was fairly caught. In fact, the SEC is kind enough to put the dumb quotes in boldface, so they're easy to find, 1 though somehow this didn't make it into bold:
Athena referred to its accumulation immediately after the first Imbalance Message as "Meat," and to its last second trading strategies as "Gravy."
Heehee that's dumb.
What is going on here? It starts with the fact that Nasdaq basically does two sorts of trading in the late afternoon. One is just its regular continuous order book trading, the kind it does all day. There are bids, there are offers, and there are lots of little trades that are constantly updating the price of every stock. Someone trades 100 shares at $20.01, 100 shares at $20.02, 200 shares at $20.03, 100 more at $20.02 again, etc., all within a fraction of a second.
There is also the closing auction, which is more or less a separate institution. This is an auction that occurs at a single point in time, just after the 4:00 p.m. close. People put in buy orders and sell orders throughout the day, and then they all trade with each other simultaneously just after 4 p.m. at the clearing price of the auction.
These really are two separate markets: a continuous trading market and a discrete-point auction. And those two sorts of trading could get a different price. A stock can be trading at around $20 in the continuous book at 3:59:59 p.m.; meanwhile, the closing auction can have orders to buy 100,000 shares without much price sensitivity, while to get 100,000 sellers you'd need to price the auction at $21. So you could have the weird result of a stock trading at $20 throughout the day, up to the very last second, and then jumping to close at $21.
That's bad. Prices should reflect reality; there should not be two (very) different prices for the same thing at (almost) the same time. So you need a mechanism to align the closing price with the trading price. 2 That mechanism exists, and it has two parts. First, Nasdaq tells people when the prices are likely to be out of line. The way it does this is by sending "imbalance messages " every five seconds throughout the last 10 minutes of trading. An imbalance message says, roughly:
Based on the orders we already have in the closing auction book, at the current price of $X, the closing auction would have Y more shares to sell than to buy (or vice versa).
The closing auction would balance at a price of $Z (the "far price").

If Y is small and $X and $Z are pretty close to each other, there's no problem. If they're far apart, then that means that the market price and the closing price may not agree.
The second part of the mechanism is, people fix the imbalance. At 3:50 p.m., Nasdaq tells everyone that, say, there's a buy imbalance of 224,638 shares of EBay at its current trading price of $23.55. That means that, if trading stopped right there and the closing auction was held at 3:50, there would be more buyers than sellers at $23.55, and the closing price would be $23.60 or $23.65 or $24 or something, and the close would look very volatile.
But trading doesn't stop right there. There's still 10 minutes left. And what happens is, people step in to fix the imbalance. They say: OK, if the auction really has 224,638 more buyers than sellers, I will sell those 224,638 shares. (This is called an "Imbalance-Only-On-Close Order.") And then they go out and buy those 224,638 shares in the continuous market over the next 10 minutes. They buy from people who want to sell now, in order to sell to people who want to buy later.
This is a classic market-making function. The people doing this -- and they're not really people, they're algorithmic high-frequency trading firms -- are intermediating across time. There are sellers now, there are buyers later, and the HFT market-makers buy from the sellers and sell to the buyers, giving everyone a smoother and fairer and more informative price.
Of course, the effect of their trading will be to push the price up over the last 10 minutes. That's supposed to happen. There are more people who want to buy at the close than sell. More buyers than sellers pushes the price up. Without Nasdaq's imbalance message and the efforts of the market-makers, the price would be flattish over the last 10 minutes, and then jump up dramatically at the close. 3 Here's the dumbest imaginable chart:
Now if you look at that chart, you'll see that the market maker buys stock over those last 10 minutes at prices ranging from $20 to $20.50. But it sells all its stock at the close at a single price of $20.50. Let's say it pays an average price of $20.25, buying smoothly over time. Then it sells at the close at $20.50. It's made 25 cents a share by intermediating in time. (Obviously, these numbers are at least an order of magnitude too big; I'm just trying to be illustrative. 4 )
I want to dwell for a long, long time on two simple facts. One is: This is good. This is good. There's nothing wrong with this. This is a value-added intermediation function. This buys from people who want to sell and sells to people who want to buy. The people who want to sell can't sell directly to the people who want to buy, because the people who want to buy live 10 minutes in the future. So the market makers intermediate their desires. And the market makers make money doing it. Because they're providing value, and charging for it. All of this is supposed to happen. All of it makes markets better.
The second fact is: This looks manipulative. The market makers put in an order to sell stock at a fixed point in time -- the close, the fix -- and then they buy the same amount of stock in the 10 minutes leading up to that fixed point. As they buy, the price goes up, and then they sell the stock back at the higher price. That looks like classic market manipulation. That looks precisely like the foreign-exchange fixing scandal, except for the scammy chat rooms. 5
It's a mystery, isn't it? You should rejoice in the mystery. The mystery is real. Stuff that sounds like manipulation may not be manipulation. Or maybe: Stuff that is a normal and essential part of financial markets may be manipulation. Who can say?
Athena isn't a mystery. Athena really was manipulating the market. Athena is a degenerate case of what I described. Basically you'll notice in what I described that the market maker buys at its average price, and then sells at its final price. It has incentives to make those prices as different as possible. One way to make those prices different is to try to buy really efficiently, so you buy at a low average price. Another way to make the prices different is to make the final price really sloppy and inefficient, so you sell at a high final price. That's what Athena did: It bought about half of the shares it was going to buy smoothly over the last nine minutes and 58 seconds, getting a reasonable average price on half of the shares. That's "Meat." Then it would buy the other half sloppily in the last two seconds, pushing up the final price really high and leading to a high sale price. That's "Gravy." Gravy is how it made its money. 6
That's straightforwardly not good value-adding intermediation. You can tell because they were trying to be inefficient: They wanted to move the price around a lot. If you want to move the price around a lot, you're probably not providing a great service to smooth the market. You're just trying to mess with people to make a profit. That's a useful test of market manipulation: Adding chaos is mostly bad; subtracting it is mostly good. Though it's not an easy test to apply. 7 The dumb e-mail and dumb nickname tests are more straightforward.
There is a lot of puzzlement to the Athena case that is of second-order interest. 8 And there is some basic silliness, as there often is in the manipulation cases that actually get brought. At one point, an Athena analyst e-mailed his manager to gloat that Gravy made $5,300 in a day, moving 33 stocks by as much as 12 cents. The manager wrote back, "going to Vegas tonight." With $5,300! Later, Athena "lost approximately $2-3 million" in a day with this strategy. So it had its flaws.
The lesson here is something like: There are manipulative strategies, and there are good strategies, and it is not easy to tell them apart. You can tell them apart, probably, but you need to understand their purposes first. And dumb e-mails and nicknames can be a big help.
To contact the author on this story:
Matthew S Levine at mlevine51@bloomberg.net
To contact the editor on this story:
Toby Harshaw at tharshaw@bloomberg.net
Before it's here, it's on the Bloomberg Terminal.
LEARN MORE