Hedge-Fund Guys at the Gate
Tech companies have adopted two-tiered share structures to ensure their founders retain control, though they may not prove effective if performance falters.
by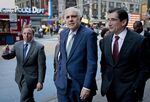 Never has techland felt the influence of activist investors so acutely, with a Who's Who of hedge-fund luminaries transforming the investing landscape. Jesse Cohn of Elliott Management is pushing EMC to spin off VMWare. Dan Loeb reshaped Yahoo's board and installed Marissa Mayer as chief executive, and now Starboard Value wants to break up the company. Value Act's Jeffrey Ubben pushed Steve Ballmer out of Microsoft. And Carl Icahn has been an agitator in the industry for the past seven years.