Freezing Eggs Isn't a Corporate Conspiracy
Freezing eggs is a perfectly good and progressive benefit for women, and it's a fine choice for the women who want it. Stop naysaying, says Katie Benner.
by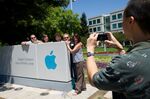 I've been thinking a lot about Apple and Facebook and egg freezing. Apple said this week that it would cover up to $20,000 of the cost of this fertility option, following a similar initiative that Facebook announced in January.