Canada Shows Minimum Wage Has Minimal Effect
Advocates say it reduces poverty. Opponents say it hurts the economy. Canada says both sides are mostly wrong.
by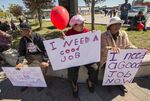 Advocates of a $10.10 minimum wage say the move would "fundamentally change America" for the better. Opponents say it would "destroy" as many as 1 million jobs. The evidence from a country that has already tried it suggests both sides are mostly wrong.