Why the Right Loves Ben Carson
What exactly does the right find so appealing about Ben Carson?
by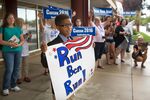 Phil Mattingly has an excellent profile of retired surgeon Ben Carson on Bloomberg Politics today. Carson's overt forays into Republican presidential politics are compelling for several reasons, not least that he's another in a string of utterly implausible candidates who generate great enthusiasm among the Republican base. Carson leads Jeb Bush, Chris Christie, Ted Cruz and Rand Paul in the Bloomberg/Des Moines Register Iowa poll.