Slinging Mud and Eating Babies in Brazil
The elections are getting interesting.
by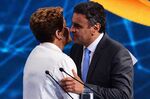 The first televised debate in the runoff for Brazilian presidential election last night had a little something to displease everyone. No sooner had Workers Party (PT) incumbent President Dilma Rousseff and her challenger, Social Democracy Party challenger Aecio Neves, stepped up to their opposing lecterns, they began hurling muck and set-piece zingers.
When Rousseff wasn't "irresponsible" and "repeating lies," she was dragging the nation through "a river of mud," Neves charged. Rousseff fingered Neves for "nepotism," administrative improbity" and a predilection for inflicting pain on workers.
For partisan scorekeepers, this was a long-awaited battle. For the wavering or bewildered, or anyone hoping for political healing, the 2 1/2-hour smack down was a reason to go to bed disappointed. By closing remarks, the evening seemed more a row between wonks, bludgeoning spectators with statistics as much as insults.
Perhaps this was fitting for an election where the two largest pollsters, Datafolha and Ibope, recently pointed to a dead heat for the Oct. 26 vote. But such is the state of the Brazilian economy that even a statistically negligible two-point advantage for the market-minded Neves was enough to send the Sao Paulo stock index soaring on the eve of the debate, only to dive a day later when that prospect looked exaggerated.
Missing from the melee was a clear plan from either campaign on how to steer Brazil from low growth, rising inflation and fewer industrial jobs without hurting the poor. Rousseff vowed "change with continuity," Neves promised to heed voters "who want liberation" and both launched into a battle of scarecrows.
To wit, Rousseff charged that the return of "bank-friendly" Social Democrats will erase a decade of social gains -- falling poverty, a shrinking income gap and a rising middle class -- by devolving Brazil to the days of recession and slash-and-burn austerity. "You like to cut salaries and investment," she said, referringto former President Fernando Henrique Cardoso (1995 to 2002), Neves's political godfather, who imposed austerity to beat hyperinflation.
Neves's challenge was to convince voters that he is no welfare Scrooge and that if Rousseff's polices run their course, the flailing economy will eventually destroy the social programs anyway. His best point was on minimum-wage policy: Betting on eternal blue skies, the Workers Party pegged minimum wage increases to inflation and economic growth, "which is now zero," he claimed. He could also have mentioned the recent household census data showing that, after a decade of improvement, the gap between rich and poor is no longer shrinking.
Hype and scaremongering are just politics, but history has been trampled in the rush to the stump. Rousseff repeatedly lashed out at Neves's top economic advisor, former Central Bank President Arminio Fraga, as a baby-eating capitalist, who gutted wages and drove inflation to a frightening 12 percent when he left office in 2002.She seems to have forgotten that her predecessor and mentor, the populist firebrand Luiz Inacio Lula da Silva, prudently maintained Fraga's policies after he first took office, and asked him to stay on until investors' nerves settled.
This is still Rousseff's election to lose. Only two Latin American incumbents -- Daniel Ortega of Nicaragua (1990) and Hipolito Mejia in the Dominican Republic (2004) -- have failed to win reelection in the last quarter century. Mindful, nonetheless, of what her Chief Minister Gilberto Carvalho recently called "the extremely delicate moment," Rousseff is trying to spin incumbency as change. "New government new ideas," is the money quote from her campaign website, which has all but buried the PT's initials and patented red star.
And Neves is hardly out of the running. He surprised the pundits and pollsters by surging from third place into the second round, bypassing the meteoric Socialist candidate Marina Silva. Silva was undone by Rousseff's brutal campaign machine, which painted her in daily television campaign spots as the markets' handmaiden and the poor man's bogey. Rousseff has now turned her guns on Neves, who is better prepared and has equal time on TV. May the best mudslinger win.
This column does not necessarily reflect the opinion of Bloomberg View's editorial board or Bloomberg LP, its owners and investors.