Who Gets Rich When Tech Firms Marry?
Katie Benner looks at some big tech breakups to see what we can learned about successes and failures in big tech marriages. Symantec, Hewlett-Packard, and ebay are her test cases.
by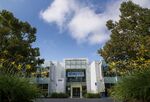 It's tempting to look at the three recent tech breakups at eBay, Hewlett-Packard and Symantec as more evidence that big deals engineered by big companies run by big people with big egos were ultimately bad for those same companies and their investors.