view
They Talked. They Left. Now What?
Global economic leaders know what they have to do to save a weak recovery. Why aren't they doing it?  
by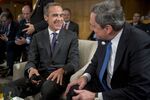 Amid deepening concerns about global growth prospects and risks of financial instability, hundreds of top economic officials convened in Washington last weekend for thousands of hours of meetings and discussions, both formal and informal. While they made progress, they fell short in making the breakthroughs needed to improve the well-being of millions of people around the world.
Specifically, having compared notes, I suspect that most of them left Washington with:
Better understanding of the risks facing the much-needed recovery in the global economy -- including the non-economic ones related to geopolitics and to the Ebola epidemic that threaten trade and jobs.

Greater appreciation of the need to change the current dynamics between short- and long-term challenges -- by keeping short-term factors (such as inadequate aggregate demand) from becoming long-term problems that eat away at growth potential, and by using policies that benefit the long term (such as investment in infrastructure projects) to stimulate economies in the short term.

Deeper recognition of the need to expand the tool kit beyond the central banks' unconventional policies -- some of which are already deemed to be producing collateral damage and unintended consequences such as excessive risk-taking in financial markets.

Concern about the disconnect between economics and markets -- what Christine Lagarde, the managing director of the International Monetary Fund, described as "too little economic risk-taking, and too much financial risk-taking."

Renewed commitment to strengthen the multilateral system, including a rather bold statement by the IMF's highest-country grouping -- the International Monetary and Financial Committee -- urging the U.S. to ratify the 2010 governance and quota reforms "at the earliest opportunity."

These are all important steps toward a more coherent and effective policy approach for the global economy. After all, proper recognition of the challenges is a necessary part of a durable solution. But it isn't sufficient.
Policy makers have yet to translate greater recognition into bolder and better coordinated measures, and do so with the urgency needed to address a tentative and unbalanced global recovery that is harming vulnerable segments of the population with the least resilience. Until they act, wise talk will remain just that -- wise talk.
To contact the author on this story:
Mohamed Aly El-Erian at melerian@bloomberg.net
To contact the editor on this story:
Katy Roberts at kroberts29@bloomberg.net
Before it's here, it's on the Bloomberg Terminal.
LEARN MORE