How Austria Lost Out on a Great Art Deal
Austria passed on what could have been a valuable deal: the acquisition of a hardware dealer's contemporary art collection.
by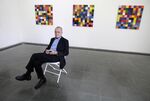 On Monday, the biggest-ever auction of a private contemporary art collection proved one European government to be nearsighted, to put it mildly. It also showed that in the art market, even experts are often unable to predict a painting's price.