view
Germany Sabotages Europe
It's time the Bundesbank stopped grousing and started backing Mario Draghi's efforts to resuscitate the euro zone economy.
by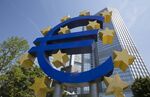 The euro region's playbook for tackling its economic malaise has followed a predictable pattern in recent years, with policy reverberating in a call-and-response loop between the European Central Bank and the Bundesbank. That echo chamber reflects badly on the German institution, which is hobbling the effectiveness of the ECB's efforts.
The euro zone's attempt to come up with an effective policy, which so far still falls short of full quantitative easing, has been unnecessarily painful and disappointingly repetitive. First, ECB President Mario Draghi pitches some extension or other of the central bank's interventions. That's followed by the Bundesbank decrying the proposal as dangerous or illegal. Eventually, Draghi overcomes German reluctance and gets his way.
The Bundesbank is within its rights to harbor doubts; there are plenty of economists, investors and strategists in tune with its concern that unleashing QE will eventually stoke inflation. Its public protestations, though, are self-defeating; by continually trying to circumscribe Draghi's room for maneuvering before eventually conceding, the impact of each incremental move on business and consumer confidence is diminished, in turn triggering yet more measures.
Yesterday, the German magazine Focus reported that Draghi has stopped telling Bundesbank President and ECB council member Jens Weidmann what he's planning; Weidmann has become "almost impossible" to work with and says "no to everything," the publication said, without citing anyone for its information.
The yawning policy gap between Germany and the ECB was on public display again at the International Monetary Fund's meetings in Washington in the past few days. Draghi has said he wantsthe central bank's balance sheetto expand toward the levels of September 2012, when it peaked at 3.1 trillion euros ($4 trillion) compared with 2.05 trillion euros now; Weidmann said on Oct. 9 that "it worries me quite a bit, there's a risk related to the announcement of a balance-sheet target."
The world is already skeptical of Draghi's ability to add anything close to 1 trillion euros to the ECB's monetary firepower; Weidmann's criticism can only fan those doubts and undermine the ECB's mission.
To see how perilous the economic outlook seems to investors, Weidmann might look at his own yield curve, where money managers are paying for the privilege of keeping money in the perceived safety of German debt for anything from one month to three years:

With Germany threatening to follow its neighbors into recession, it's time for the Bundesbank to stop grousing and back Draghi. If it hadn't been such a drag on initiative after initiative, perhaps the ECB wouldn't have needed to inch quite so close to full QE -- a journey that increasingly looks like it will have to end with a full Federal Reserve-style government bond-buying program, an outcome for which the German central bank will only have itself to blame.
To contact the author on this story:
Mark Gilbert at magilbert@bloomberg.net
To contact the editor on this story:
James Greiff at jgreiff@bloomberg.net
Before it's here, it's on the Bloomberg Terminal.
LEARN MORE