Finland Downgrade Should Wake Up All Europe
Finland's downgrade by S&P tells European governments that they ought to improve their economies' competitiveness.
by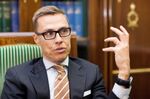 Finland's exclusion from the shrinking ranks of AAA-rated countries means little in itself: Yields on Finnish bonds remain at historic lows. Why then is Finnish Prime Minister Alexander Stubb calling on his compatriots to "build a new Finland" as if the Standard & Poor's downgrade were a doomsday trumpet?
Perhaps the better question is why other European leaders are not pushing as hard for economic reinvention. Finland has already managed one phoenix-like re-emergence in the past 25 years, and Stubb should be heeded when he says: "Some believe economic growth will fix things. We need to continue economic reforms. We can't wait for growth."
In the early 1990s, after the Soviet Union became almost insolvent and fell apart, Finland had to reorient its economy. Starting with 17 percent unemployment and output 10 percent lower than its 1980s peak, the country compensated by building a "knowledge economy," investing in education and information technology infrastructure. Within 15 years, it was the darling of tech sector boosters and macroeconomists alike. A 2006 World Bank report called it the most tech-specialized economy in the world, and the World Economic Forum regularly put Finland at the top of its Global Competitiveness Index. Finland's seemed a clear-cut case of wise government policies -- liberalization of the telecoms market, subsidies to the tech sector, relatively low corporate taxes -- restoring a small country from ruin.
In fact, Finland's success hinged on that of a single national champion. The World Bank report from 2006 spoke of a Nokia-led tech cluster, including 6,000 companies of which 300 were telecom equipment makers' major subcontractors. But without its leader, the cluster would have been a blip on the radar. Here's a chart from that old report showing that the tech industry's contribution to Finland's gross domestic product growth mainly came from Nokia:
All Nokia had to do to launch Finland on what Stubb now calls its "lost decade" was take a couple of wrong turns. When Apple produced the first iPhone, Nokia was the world's biggest mobile phone manufacturer. Today, what remains of the company's once-proud handset division is an expensive headache for its current owner, Microsoft. In July, Stephen Elop, who runs the division, announced plans to cut 12,500 jobs.
Now that Nokia has shrunk, where is that famed Finnish tech cluster? Well, it's still there, but nothing in it can take the fallen champion's place. Supercell, valued at $3 billion when Japan's SoftBank acquired it last year, still makes top-grossing mobile games, and Angry Birds developer Rovio is still around, though it recently had to cut 16 percent of its staff and replace its chief executive. Finland has the lowest corporate tax rate in Scandinavia (20 percent), an excellent telecommunications infrastructure and some state support for innovation, but it takes more than that for companies like Nokia to spring up. Sheer luck is needed, too, just as it is for the emergence of, say, major poets or composers. In some decades, a small country is blessed; in others, it isn't.
Nokia's crash forced Finland to consider a hard truth it had been ignoring: The economy's traditional mainstay, the paper industry, is being killed by the very same tech innovation that fed the national economy in the 2000s. Unemployment is at 7 percent now, much lower than during the 1990s crisis, but it's growing and, with the end of the tech boom, it's hard to say where new jobs will appear. "It remains uncertain whether other sectors can consistently compensate for the output loss in Finland's wood and paper industry and its electronics industry," S&P wrote, explaining the downgrade.
At the same time, the new cold war threatens Finland's trade with Russia, which accounts for 4 percent of the Nordic country's gross domestic product. The population is aging. An overheated housing market looks dangerous. And from late 2007 to the end of 2013, labor costs increased 20 percent, compared with 12.5 percent for the euro area as a whole.
Finland's lesson for Europe is that growth is all about competitiveness. Big, diversified economies need more than one miracle like Nokia to thrive. And that takes a flexible labor market, a free economic environment and, yes, some government investment in infrastructure, research and development. It makes little sense to pin all hopes on monetary stimulus, as the French government appears to be doing in the face of its own looming S&P downgrade.
Though markets have taken to ignoring rating agencies' signals, the downgrades -- which have left a precious few countries in Europe with an S&P rating of AAA -- should tell European governments to get to work on their economies' competitiveness. Stubb, at least, gets the message: He calls the downgrade a "wake-up call" and says Finland needs to speed up structural reforms.
This column does not necessarily reflect the opinion of Bloomberg View's editorial board or Bloomberg LP, its owners and investors.