Even Russia's Soccer Hooligans Fear This Song
Ukrainian and Belarussian soccer fans united in singing an insulting ditty about Putin, but Russians don't dare sing it.
by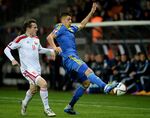 It is rare when fans of opposing soccer teams agree about anything, but at a Euro 2016 qualifying match on Friday, the 10,000 supporters of the Ukraine and Belarus national squads united to sing. "La-la, la-la, la-la, la-la, Putin khuilo," they chanted, likening Russian President Vladimir Putin to a penis. Many Russian soccer fans probably would like to sing it, too, but they don't -- and that may explain why Russia isn't about to have a Ukraine-style revolution.