Does the Supreme Court Want Whiter Teeth?
A case of special interest capture goes to the high court.
by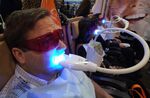 Ever tried whitening your own teeth? How'd that work out for you? In North Carolina, you probably wouldn't even have had the option. In the middle of the 2000s, the North Carolina State Board of Dental Examiners systematically hounded non-dentist teeth-whitening operations out of operation -- and effectively blocked the sales of teeth-whitening agents. Now the Supreme Court will decide whether this was an antitrust violation, as the Federal Trade Commission ruled, or whether the board's status as a quasi-official North Carolina agency means its campaign was out of the commission's reach.