Buyer Beware of Cold Snaps
A day of unusual weather can strongly nudge people to spend a lot of money in ways that they will soon regret.
by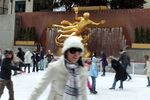 Winter is coming, and you might be tempted to start buying warm clothes, especially on the first day the temperature drops drastically. If so, be careful: You might purchase something you don't really want.