Big Brother at the Airport Lounge
Should we trade privacy for convenience?
by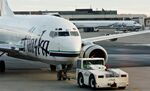 It's a busy Friday afternoon, your flight's been delayed, and there's a long line of people waiting to have their credentials checked to be admitted to the business class lounge. How much is it worth to you to cut the line and get to the free drinks? Ten dollars? Submitting to a fingerprint scan that stores personally identifiable data in the airlines' computer servers?