Are Medicaid Boosters Too Optimistic?
States' acceptance of Medicaid expansion gets compared to the program's initial rollout: Slow, but steady. That analogy may be dangerous.
by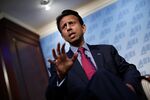 A spurt of Republican states changing their minds on Medicaid expansion backs up an optimistic argument you hear a lot in health-policy circles: It took a long time for all 50 states to sign up for the original Medicaid program, and the expansion will unfold in the same way -- slowly but surely.