Yuan Bonds and Other U.K. Innovations
The U.K. plans to borrow yuan to cement London's position as Europe's financial center, in an echo of its tactics a quarter of a century ago when the Euro first posed a threat. 
by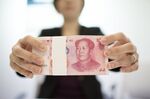 The U.K.'s plan to become the first nation other than China to sell a bond denominated in the Chinese currencyopens another front in the battle among the world's financial centers to become the offshore trading hub for Beijing's currency. It also gives me an excuse to revisit my favorite bond of all time -- the U.K. 9.125 percent security that matured in 2001.
The Chinese currency is now the world's seventh most-used payment currency, up from 20th place in January 2012, according to the Society for Worldwide Interbank Financial Telecommunication:

London, Paris, Frankfurt, Luxembourg and others are trying to become the European international center for yuan transactions. Germany stole a lead in March with an agreement signed between the Bundesbank and the People's Bank of China on clearing and settling yuan payments; the U.K. trumped that in June with the pound becoming the first European currency tradeable directly with China's currency, rather than via dollars, joining the currencies of Japan, Australia and New Zealand. The euro didn't achieve that status until last month.
The U.K. fought -- and won -- a similar battle almost a quarter of a century ago. In 1991, with Britain resolutely shunning the euro as its European peers banded together in a currency union, London's future as Europe's financial capital looked shaky at best. To defend that pre-eminence, the Bank of England constructed a 10-year bond denominated in what were called European currency units, or ecu, the euro's synthetic predecessor.
At 2 billion ecu -- about $2 billion at the time -- it was the biggest security ever denominated in the ersatz currency. (The ecu's virtual value was calculated from the 11 currencies that were then part of the European Union, weighted according to gross domestic product and trade. The lack of physical currency wasn't an obstacle to buying or selling ecu, or denominating other instruments in it.)
Fast forward 23 years from that bond's debut (it was repaid in full in February 2001), and London is still Europe's financial nexus with the rest of the world. While the bond didn't singlehandedly safeguard London's standing, it did attract futures trading in the nascent currency, kept U.K. investors involved even though they weren't going to jingle euros in their own pockets, and it put the Bank of England front and center of drawing up the various road maps that the rest of Europe used to implement a common currency.
This column does not necessarily reflect the opinion of Bloomberg View's editorial board or Bloomberg LP, its owners and investors.