Editorial Board
Africa's Ebola and Asia's Obligation
Outside Africa, no region faces greater risks from Ebola than Asia.
by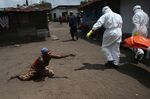 U.S. Secretary of State John Kerry clanged his tin cup on the lectern last week, making an "urgent plea" to the world to do more to fight Ebola. With more than 8,000 documented cases and 4,000 reported deaths in West Africa, the epidemic is outstripping international efforts to contain it -- and Asian countries in particular have compelling reasons to respond.

For starters, many of them have strong commercial ties to the region. China has signed deals for billions of dollars in iron ore and other commodities with countries such as Liberia and Sierra Leone. Japan is one of Sierra Leone's biggest export destinations, and India one of its biggest source of imports. Liberia's ship registry business makes South Korea its largest source of imports. And that's not to mention the huge numbers of Asians working in West Africa -- more than 8,000 Filipinos, for instance.
More broadly, the growth of trade-driven Asian economies depends on the free flow of goods and people. Epidemics and the security measures that accompany them are bad for business. The 2003 outbreak of sudden acute respiratory syndrome (SARS) in China, for instance, led to about 8,500 cases in 30 countries, resulted in more than 800 deaths, and reduced economic growth and activity throughout the region.
Asian countries also have some of the densest urban populations in the world, and some of the most uneven public health systems. In such places, the arrival of Ebola would be devastating. Together with the economic consequences, the risks of Ebola going unchecked are arguably greater for Asia than any other part of the world.
But the argument goes beyond economics and self-interest, and for Asians, the moral case for more involvement may have special relevance. Asian immigrants were regularly (and shamefully) quarantined upon their arrival in the 19th and 20th centuries in the U.S., and came to know all too well what it was like to be stigmatized as vectors of disease. That fate should not befall anyone in the 21st century. Sadly, there is evidence that on some occasions, Asians have allowed fear to trump both science and historical memory.
All of this makes the paltry response to date of some Asian nations so disappointing. Japan has contributed slightly more than $40 million -- not a lot for one of the world's richest and most advanced societies -- and sent four doctors via the World Health Organization. It is not even in the top 10 contributors to the United Nations' Ebola response campaign, which is $300 million shy of its goal. South Korea, where the onset of Ebola panic prompted Korean Air to unnecessarily cancel direct flights to East Africa, has pledged $5.6 million -- about one-quarter the amount given by Sweden.
To China's credit, it has sent 174 doctors and medical personnel and a mobile lab to Sierra Leone, and contributed $37 million in assistance. Yet given its robust commercial ties to Africa, it can and should do more -- send more doctors and technicians, build at least one more dedicated Ebola treatment facility, commit to providing logistics and care for its patients. With the U.S. Congress meddling in the U.S. military's relief operations in West Africa, quick Chinese assistance is even more essential.
China and India also both have uniquely valuable expertise: China through its work in detecting and containing SARS, India with its street-by-street campaign to eradicate polio. Both also share an aspiration for greater global leadership. What better way to fulfill it than to apply more force and ingenuity to stopping the greatest threat facing global public health?
--Editors: James Gibney, Michael Newman
To contact the author on this story:
The Editors
To contact the editor on this story:
David Shipley at davidshipley@bloomberg.net
Before it's here, it's on the Bloomberg Terminal.
LEARN MORE