Will Dynasties Rule U.S. Politics?
Political dynasties come and go. This year looks no different. 
by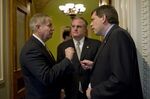 There's been a flurry of attention to dynastic politics this year, perhaps because of the possibility of a Hillary Clinton/Jeb Bush presidential match-up, but also because it has seemed that the Democratic strategy for winning Senate seats in the South comes down to relying on dynastic politicians such as Michelle Nunn (daughter of Senator Sam) in Georgia and Alison Lundergan Grimes (daughter of state politician Jerry Lundergan) in Kentucky.