Why Is the Fed Thinking Globally?
The Fed usually acts as if the U.S. is a closed economy. Suddenly it is fretting about global issues and the dollar.  
by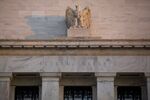 Outside of crisis periods -- and we aren't in one -- the U.S. Federal Reserve normally behaves and speaks as if the U.S. is essentially a closed economy. Not so at its last policy meeting. The minutes released this week contain an unusual focus on both the world economy and the value of the dollar; and the drivers are a mix of old and new -- at least they should be.