What Terrifies Putin's Gang? Gossip Magazines
The Russian bill limiting foreign ownership of media targets glossy magazines as much as the remaining independent new organizations.
by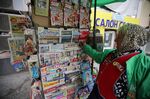 Given Russian President Vladimir Putin's anti-Western stance and his record of stamping out domestic opposition, it would be logical to suppose his backers are trying to ban foreign ownership of Russian media to silence the few independent news outlets that still operate in Moscow, such as the Russian edition of Forbes magazine and the daily Vedomosti, a joint venture of Dow Jones and the U.K.-based Pearson, publisher of the Financial Times.