What Happens to Housing When Rates Rise?
Jonathan Miller writes about the housing economy and other aspects of real estate. He began a real estate blog, the Matrix, in 2005, and has written a column for Curbed.com. He is co-founder of Miller Samuel, a residential real estate appraisal company, and the commercial valuation firm Miller Cicero.
Read More.
U.S. housing affordability has taken a big hit in the past year after soaring amid the financial crisis, when interest rates fell and prices collapsed. Declining affordability, lately the result of rebounding prices, often means fewer home sales and pressure on prices.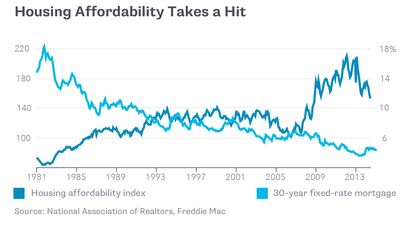 We received an update this morning, when the National Association of Realtors publishes its Housing Affordability Index for August, which showed a slight uptick in affordability. The index is a composite of median household income, median home price, 30-year fixed mortgage rates and based on the assumption of a 20 percent down payment.
Mortgage rates, which are integral to the index, have been falling for more than three decades. It's hard to remember that the 30-year fixed mortgage rate was 18.45 percent in 1981, when it now is hovering just above 4 percent.
So what happens if mortgage rates jump to 5 percent next year, a reasonable figure given the odds that the Federal Reserve might start raising interest rates then? That may push the affordability index lower and median sales prices might decline as much as 10 percent. Yet mortgage rates rise for a reason, and an improving economy has the potential to offset some of the impact of increasing rates.
This column does not necessarily reflect the opinion of Bloomberg View's editorial board or Bloomberg LP, its owners and investors.
To contact the author on this story:
Jonathan J Miller at jmiller@millersamuel.com
To contact the editor on this story:
James Greiff at jgreiff@bloomberg.net