Thanks, Mr. Nadella, for the Career Advice
Following the firestorm of criticism surrounding Microsoft CEO Satya Nadella's comments on women and pay, Katie Benner examines the world of wages in Silicon Valley.
by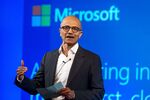 No sooner had I written about pay inequities for women and people of color in tech, than Satya Nadella, Microsoft's well-regarded and influential chief executive, gave women this advice on how best to negotiate a raise:
It's not really about asking for the raise, but knowing and having faith that the system will actually give you the right raises as you go along. ...

That, I think, might be one of the additional superpowers that, quite frankly, women who don't ask for a raise have. Because that's good karma. It'll come back because somebody's going to know that's the kind of person that I want to trust. That's the kind of person that I want to really give more responsibility to. And in the long-term efficiency, things catch up.
It's possible that if you're a woman and you're kind and you work hard and then die, your karma will be so great that you'll be reincarnated as a man, and then you'll make way more money.
But what Nadella was saying on Thursday (in Phoenix, to a room full of women at the Grace Hopper Celebration of Women in Computing) is that if women work hard and keep their heads down the system will reward them fairly.
Women working in tech might prefer to take their chances with reincarnation.
A recent compensation study reminds us that women, on average, make $6,358 a year less than men, and that women with kids earn $11,247 less than their childless colleagues. The New York Times reports salaries for female computer scientists are 89 percent of what a man makes.
Nadella's comments turned him into a piñata on social media, and he handled the damage control admirably, releasing a straightforward apology on Microsoft's website:
Without a doubt I wholeheartedly support programs at Microsoft and in the industry that bring more women into technology and close the pay gap. I believe men and women should get equal pay for equal work. And when it comes to career advice on getting a raise when you think it's deserved. ... If you think you deserve a raise, you should just ask.
But the speakers on the "Male Allies Plenary Panel" (who apparently ended up getting heckled by the audience) at the Grace Hopper conference haven't said much about their boorish, clueless advice for women, which included my favorite:
The best thing you can do is excel, and to push through whatever boundaries you see in front of you. Just continue to push and be great.
This is the sort of thing that works if your company is a mature, grown-up sort of place where people can handle disagreement, rejection and dissent. But the tech world (especially the startup world) seems to exist on a different continuum.
On one end, we can find the hyperanalytical world where the people at the top (white men, for the most part) can't imagine that what made them successful also wouldn't make everyone else successful. On the other end, we find the harass-y, threatening world where people (white men, for the most part) are aggressively terrible when they don't get their way.
These flashes of casual sexism from a conference dedicated to celebrating women in tech are perfect if you're looking for examples of why things haven't changed much in Silicon Valley when it comes to who has the money and who has the power.
As I noted yesterday in my post about how race and ethnicity affect wages in Silicon Valley, even great demographic gains haven't translated to earnings power for Asians, a minority group that dominates the tech world. That's because good intentions don't actually make the guys at the top of the food chain empathize with and look out for people who aren't like them, people who don't share their color, their gender and their paths to success. They look out for their own, and prioritize their own experiences, without even knowing it.
And then they start talking at conferences.
To contact the author on this story:
Katie Benner
To contact the editor on this story:
Timothy L O'Brien at tobrien46@bloomberg.net
Before it's here, it's on the Bloomberg Terminal.
LEARN MORE