Tesla Has Old Lessons to Learn
Tesla is far more constrained in what it can do than many seem to believe. 
by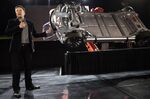 The auto industry has developed certain unwritten rules over the last hundred years or so. Got new technologies or features? Save them for the new model year. Have a new product announcement? Make it at a car show. Want a new product? That will be several years of development.