France Needed a Nobel More Than Philip Roth
More than the citizens of any other nation, the French derive their greatest pride from their cultural and intellectual heritage.
by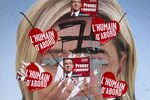 Philip Roth probably wasn't surprised, or much disappointed, when he found out yesterday that he had been overlooked again for the Nobel Prize in Literature. He had concluded long ago that his solipsistic and darkly humorous novels would never satisfy the Nobel Committee, which aims to honor "the most outstanding work of an idealistic tendency."
"I wonder if I had called 'Portnoy's Complaint' 'The Orgasm Under Rapacious Capitalism,' if I would thereby have earned the favor of the Swedish Academy," he told the New York Times in March, displaying exactly the kind of cynical edge that the earnest Swedes don't appreciate, never mind reward.
Roth makes a good point. Books that seek to lift up, redeem or otherwise improve humanity aren't necessarily much good as literature; those that are exclusively tools of a political or a social agenda are downright horrible (think paeans to Soviet tractors, or inspirational life lessons of adopting a shelter dog).   
To his credit, this year's laureate, the French novelist Patrick Modiano, showed he was well aware that the committee often has ulterior motives beyond the recognition of literary merit. "I would like to know how they explained their choice," he said at a news conference in Paris yesterday.
They never do, but we can certainly try to interpret their decision. First, let's leave aside the question of whether Modiano is a great writer. He very well may be. (American readers won't be able to judge until more of his work is available in English, a process the award should kick into high gear.) What "idealistic tendency" is being furthered here? The committee gave us a clue. Its announcement said Modiano was rewarded "for the art of memory with which he has evoked the most ungraspable human destinies and uncovered the life-world of the occupation."
 This is a reference to the author's unsparing explorations of France and the French during World War II. (For a taste, until the English translations are published, have a look at Louis Malle's excellent 1974 film "Lacombe, Lucien." Modiano wrote the screenplay about a dim-witted and cruel 17-year-old who joins the collaborationist Milice during the Nazi occupation.)
A refresher course on the shameful "annees noires" might do France some good. The worsening economic crisis has stirred up some ancient and very stinky muck. The manifestations include an upswing of xenophobia, racism, rejection of the European Union and a surge of voters to the right wing -- along with the resurgence of some very outdated forms of far-left agitation against globalism and capitalism. And, of course, anti-Semitism, which, though it was never eradicated entirely, had remained largely taboo in the postwar era.
Perhaps most unsettling has been the rampant hate speech, including attacks on Jews and Holocaust denial from the very popular comedian Dieudonne M'bala M'bala, who despite attempts by the government to ban his performances is playing to sold-out houses. (That a democratic government should feel compelled to ban a comic is a good illustration of how out of hand things have gotten).
The ugliness hasn't been restricted to theaters and concert halls. A widely watched YouTube clip shows a group of right-wing extremists marching down a tree-lined Paris boulevard in February as they chant, "Juif, casse-toi, la France n'est pas a toi." ("Jew, get out, France isn't yours.") More recently, several demonstrations in support of Palestinians in Gaza have been a pretext for pogrom-like actions on their margins. In one instance, a group of youths broke off from the main protest and attempted to assault a Paris synagogue but were repelled by police and members of a Jewish self-defense organization. In another, a mob took after Jewish-owned businesses in the multicultural Paris suburb of Sarcelles.
The Nobel Committee may have intended more than just a history lesson, however. The good Swedes may be trying to bring the French out of their funk by raising their collective self-esteem. Probably more than the citizens of any other nation, the French derive their greatest pride from their cultural and intellectual heritage, and lament the days when French writers and thinkers were a light onto the world.
An intervention certainly was needed. The No. 1 best-selling book on Amazon.fr the morning the Nobel was announced was a cheery volume titled "Le Suicide Francais," a work of violent "declinisme" by Eric Zemmour, a television polemicist who has made a career from his dyspeptic predictions for the end of France. Perhaps Sweden will help prove him wrong. 
This column does not necessarily reflect the opinion of Bloomberg View's editorial board or Bloomberg LP, its owners and investors.